Photo Gallery of CopyCats Props
The Copy Cats Prop replica museum archives:
Inspired by the CopyCat articles by Tony Russo.
By Richard A. Coyle
Presented in approximate chronological order. . .
Please note: These are photographs were taken of many private collections over the past 25 years. Most of these prop recreations were purchased during the years chronicled. These models are NOT FOR SALE and we know of no one who currently makes any of these models.   As of now Paramount Studios considers the making of prop reproductions copyright infringement. They have sued makers of these reproductions. Please do not contact us asking where to buy them or for the names of out-of- business companies or ex-owners. Questions about details, features, however, we will attempt to answer in our upcoming letter column.
This photo gallery is presented as a historical document to honor the finest efforts of Star Trek fans. This was a vital and "fascinating" part of the Star Trek saga, a part of what helped make Star Trek what it is today, the show that would not die, the show its fans saved.
It was the activities of letter writing, convention holding, fanzine publishing, costume making, Vulcan ear wearing and phaser making and toting fans that seized the media's attention and helped resurrect this show from the graveyard of reruns. It is to these countless fans we dedicate these articles.
As we are showing these in chronological order, I will also try to tie the companies together, that is show which models belonged together, and were made by the same shop. Also the numbers of the pictures were a numbering system used on the pictures them selves, with notes on each pictures, I simply did have time to renumber and rework the notes to make more sense here.
Some were just one off, sort of one-hit-wonders. Many model makers found these fully detailed models hard to make and would drop out after short costly product runs.
Only the cheaply made unfinished kits were profitable for most prop makers, made even cheaper by the common practice of simply throwing rubber over someone else's model. 
But that is a another article so on with the show and tell.
1977

#9 One of the very first replica ever seen and certainly one of the first ever available. Made of hollow semi-hard plastic with some sort of polyurethane interior poured into it from the underside, or under the grid. This was advertised in various magazines for $19.95. A real pioneer piece that started it all..1977  This appears to have been the first one-off.
1978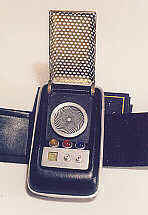 #13. Early pioneer communicator. From the same company as the '78 Phaser Two (#35)on page # 2. This piece has an electronic 'chirp" similar to the chirp in the old bird toys of that time. When you open the grid halfway, the chirp and middle light operate in tandem. Push the grid all the way open, and the chirping stops and the left and right lights stay on steady. Made of ABS plastic, grain o' wheat lights and brass grid….. Company #1 The earliest known company to produce a catalog and to make prop reproduction for many years.

#21 Inside detail of pioneer communicator .  A very fragile piece, but again as in the same case as Fleet Command, you can see how far electronics came from 1978… Company #1
#25   This piece actually looks better closed than opened.. C.#1
#15 The pioneer 1978 deluxe set (minus tricorder). The company even produced a belt, once you furnished them with your size… C#1
1978
35. An early copycat pioneer Phaser. Although similar to the piece in photos 34 & 36, this was actually first on the scene, at least around the East coast, and sold by mail for about $40.00.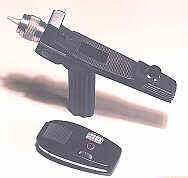 This company also produced a communicator (see photos 25 & 13 in 1978) as well as a sciences & medical/ geological tricorder. The removable Phaser one can be seen in photo # 32. This company had a 3 ½ year run. Purchased in 1978.  This is company #1 again.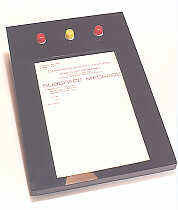 6. Same company as in photo # 35.  In addition, they  also produced a "data board" ( see photo#6) This replica has a touch sensitive pad that will activate the lights at random intervals. 1978  C#1
1980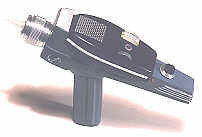 36. Another early version of this company's Phaser 2. This company had about a 12 year run. Note that the nozzle was wrong, which was later corrected and  downsized. In addition the whole piece was a bit out of proportion. These problems were later corrected and this piece became quite a popular seller at conventions, and through the mail until paramount stopped them in 1994.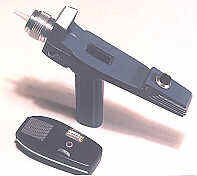 This model also has removable Phaser 1 – 1980.
1981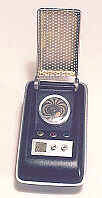 20. Fleet Command's Deluxe communicator. List price 1977-$34.95. This is the only  Decent quality piece that I had ever seen from them. Plated steel grid, good   construction, & even their electronics were fairly good for that time. Purchased from their catalogue.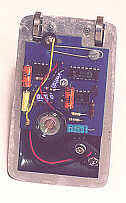 18. Detail from Fleet command's "working " communicator. Roughly 10 years later all this was reduced to a micro switch, and a board 1/3 the size you see here.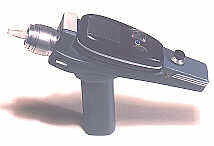 38. Fleet Command's Phaser 2 (show with photo #31). The Phaser 2 was made of   vacu-formed plastic, however the body was cast aluminum but again, as usual this company never went the extra mile. Note the nozzle is not ribbed. Still quite a sturdy piece, even though lacking. In addition it is obvious that this  a poor copy of the Starfleet Research Phaser 2. 1981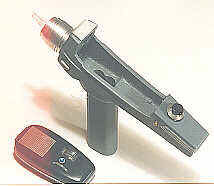 31. View of Fleet Command's Phaser 2 with Phaser 1 removed…1981
1982


42. The ever popular Agonizer from the evil empire episode "Mirror, Mirror". These started popping up around 1982 from a west coast company that specialized in Star   Wars replicas..That company was mercilessly shut down in 1994.

39. Another shot of the ever popular Agonizer.
1983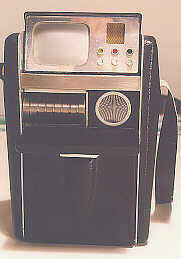 47. Fleet Command's Non-working Tricorder..1983. At the risk of repetition, their quality got decidedly worse until they practically couldn't give their product away. It is believed that he copied his pieces from Bruce Wagman (look for an interview with Mr. Wagman in this magazine) however that might might be an insult to Mr. Wagman.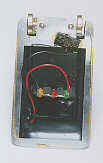 A. Detail (ugh!) of fleet command's light up only communicator…How the mighty had fallen…..(See photo # 20 1981 for electronics comparison from 1980) this one was acquired in 1989.
1988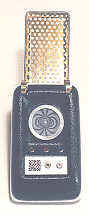 27. This replica was made by an associate of Fleet Command. Note that the grid has much larger holes, and detail is greatly lacking.. apparently this was a "quick" job to bust out a product. However this type of quality was about all that was available until approximately 1990… Purchased in 1988
H. Fleet Command's Light- up only communicator. (see photo A, 1983). this consisted of of nothing more than 3 LEDS soldered together, a micro switch and a 9 volt battery. The back was then glued on to be ripped off and re-glued to replace the battery! This was the sort of company that needed to be shut down…At any rate this company had no choice but to shut itself down and I believe that this was one of the last pieces that were made by them….1988
1990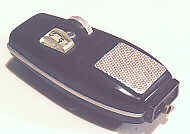 1.This piece was purchased sight unseen from a popular mail order house for $99.95 It has a modified sound effects device in it, which also powered the light bulb in the tip, made of hard vacuum-formed plastic, a metal top grill, and a brass front and a Working trigger. (1990) (manufacturer unknown)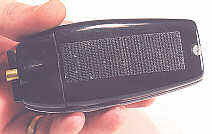 2. Underside view of photo Phaser # 1

28. Standard earpiece..machined aluminum…The only company to my knowledge to produce these from metal….1990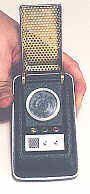 37. 1990 version of the classic communicator. Interestingly enough, this last copycat was certainly the best. The grid was custom perforated brass, the body was highly detailed plastic, but unfortunately, his moire pattern was wrong. in addition, their metal parts were pewter, including the moire pattern ring. They quickly upgraded their pewter parts to aluminum & stainless steel and even their  new moire pattern was perfect. In fact, their replicas were being sold for a time by the time of the Smithsonian Institute's gift shop during the Star Trek Display in 1991.This one has jewels and collars, not train wheels.
1991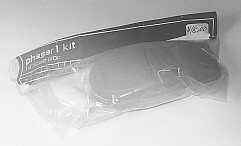 B. Phaser 1 kit, resin, 1991. The days of these are long gone and in this case, maybe that's not such a bad thing. this seems to be a quick job to get out product.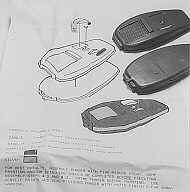 C. Detail of open kit. If you just cannot get anything else this would do…Easy to   build,& very little experience needed….
1992

7. The classic Hypo spray-made in 1992. Only 3 companies ever made Hypos, and only two of them made them out of metal.. This one in my opinion was the absolute best. They  generally were made with a pewter tip, which would turn gray with age. The Author had the company put a machined aluminum tip on this one. Truly the finest.
It even hisses, and you can practically see your reflection in it!!!

17. As discussed earlier, the vials were removable.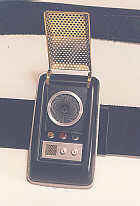 10. This smooth body communicator was painted by the author to have a semi-flat look. I wanted one that I could take for conventions for fun. It also has a digital chirp & jewels & train wheels. 1992.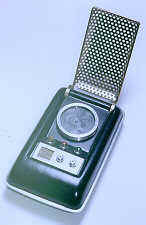 G. If you compare all the photos of all the different communicators in this archive I'm sure you'll agree that these were the best. This one is polished smooth body only not painted With jeweled lights & sound. built by the company and sold for $85.00   1992.
1993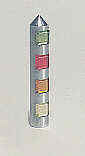 14. Field reader tube. Strictly aluminum with colored plastic. It came with the hypo kit, or you could have bought it separately for $9.95…1993
12b. A Spray Healer, All aluminum machined details, it too came with the Medical Kit, or sold separately.
29. Classic ear receiver. available for about 3 years only 1991-1994, and sold for $29.95. As in the previous picture they were generally available in all aluminum only..This one however surprisingly came with a press-fit plastic tip…1993
26. The Classic Medical Scanner, acrylic rod with two miyer silver circles and two red strips, motor driven to spin inside a plastic outer cover. Main body wrapped with anti-slip rubber strip.
39. The basic medical pouch. At the time, the whole set cost about $200.00. not at all bad considering construction & quality…1993
30. The deluxe medical pouch, with additional vials..It didn't get any better than this..
1994
23. the popular "convention special". Again, superb quality & fine workmanship..these sold for $65.00, and although other communicators were available by other  companies, these were sporadically available from 1990-1994. Just LEDS no customization. An as is piece….purchased 1994
24. Most "die hard" fans will remember that the original classic communicator was shown two ways: with a" smooth body" texture(see the episodes "Catspaw"& "patterns of force") and "haircell" textured plastic. The author requested from the  company that he wanted some smooth bodies. The company complied to less than a handful of requests, but I was lucky. This one is not painted-just polished. non-functional..1994
43. Another custom Tricorder with jewels & "n" scale train wheels. This Tricorder  was a very early edition of the ones you see in photos 44,45,46. It was probably made of ABS, thereby making it of heavier construction. He later went to straight styrene plastic. It also had a pewter moire ring, handles, & control knobs. The   author later replaced all the pewter parts to aluminum & a stainless steel face plate which was acquired from the company. It also came with lights & sound. I replaced the LEDS with what you see here.
44. Pieces like these I like to call "convention specials". These were the standard  $199.95 Light & sound Tricorders that were at shows and sold by mail order. Truly the finest ever produced. At the Smithsonian Institute's Star Trek gift shop, they sold for $249.95.
45. An all blue-jewel Light & sound Tricorder. When "originals" started being  displayed around the various shows it was noticed that the Tricorders had all blue jewels. Again with this piece, same fine quality and attention to detail. These were not available at shows or through the mail. The author customized it himself with jewels and train wheels since this was purchased in kit form.
1994.
D. An extremely inaccurate version of this company's Communicator. The body is woefully inaccurate, grid is painted steel with no wire surrounding it, the moire pattern is ghastly, & it is even missing the speaker grill!!! However THIS COPYCAT LEARNED FROM HIS MISTAKES. See photos E&F in 1995 for an almost unbelievable (but still a little off) improvement!…1994
1995
9. This is a fairly recent replica. It came from an all plastic model kit that was called a "23rd century weapon" probably to circumvent the new paramount problems and sold for $29.95. I understand that you can still find them if you keep looking,   Since they occasionally do turn up at various conventions. It also comes with plated  parts for the metal, and comes out quite well, if you have a reasonable knowledge of plastic model-making techniques, it is probably about all that is left nowadays.. 1995
46. A "geological " Tricorder, 1995. ( see the episode "that which survives").Another custom piece. Jeweled lights and sound and a blinking with separate sound flasher behind the white plastic. Less than ½ a dozen were provided by this company. A fine example of this copycat's art. I had fun building this, as it also came in kit form.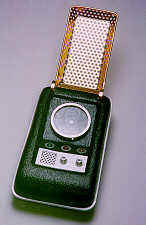 E. Most copycats hated to retool or rework their original molds. But as I've always said, if you can't learn from your mistakes, don't bother at all. As you can see by comparison from photos D & D1 this copycat tried again and for the most part succeeded. The grid is now greatly improved & plated. His plastic body is now reasonably proportioned (but still a little off) As well as this model came with light & sound and two digital voices. Not bad, but his moire pattern needed improvement….1995
F. Same model with grill closed.
---
Last from the Star Trek II TV show comes a Copy Cat's near win, a copy of the Phaser Ones sent in. As covered in Copy Cats part two article by Tony Russo.
16. Starfleet research Phaser 1. (no functions). Only a small number of these were made available after Gene Roddenberry requested that Brad Nelson make the # 1s removable on his Phasers . Note that the front is totally inaccurate. This was due to the fact that Brad needed something to put on them that was easy, to get them out fast.